FAR-Media presents the Bolt high-speed Cinebot for precision camera moves at ultra high speeds. Bolt has the ability to get up to speed instantly. The camera can go from standstill to high-speed motion and back in a fraction of a second. With the Bolt arm, the camera can literally follow falling objects and capture images that would be impossible by any other method.
Bolt is controlled by Flair, the Academy Award winning software that controls all of Camera Control's equipment including the Milo arms. This allows new moves to be created very quickly on set in addition to being able to import moves from Maya or other 3D software.
Bolt can either be mounted to the floor or, if track axis is required, to one of the Milo bases.
Key features:
Fast programming of moves on set with Flair software
Quick set up (from truck to move programming in about 1 hour)
High-speed control of lens focus, zoom and iris
Interfacing to camera and external triggers
Full safety integration to comply with regulations
Import and export to 3D packages, Maya, etc.
Lighting, DMX and Timecode interfaces
Track options available
Compatible with most high-speed cameras (max payload 35lbs)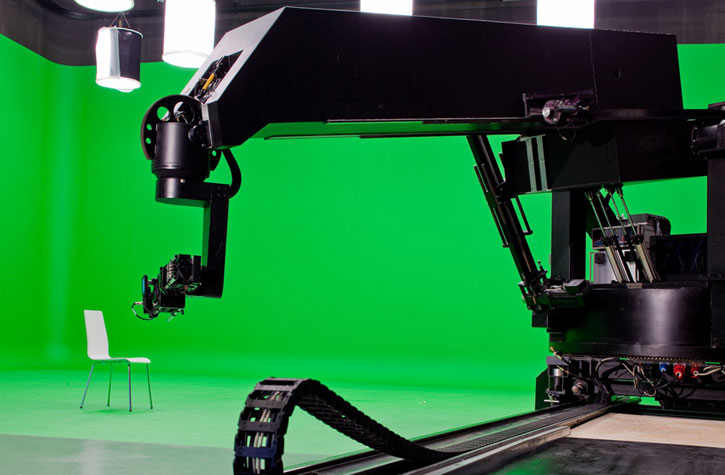 Big Sky Studios is central London's largest and most accessible full-service, photographic studios. The purpose built 3,400m² complex houses 7 fully equipped, self-contained studios. All studios feature infinity coves and are fully equipped with hair, make-up and styling areas, kitchen and dining facilities and private bathrooms. Big Sky Studios is staffed by a team of industry professionals - highly trained in all aspects of photographic production - delivering total support throughout the image-making process. From equipment, set-build and catering to post production, Big Sky offers a complete service in one location, combining creative freedom with a highly efficient and friendly shooting experience.
Studio 01
Studio 01 is the largest column-free drive-in studio in central London. The studio features a 16.7m wide infinity cove, perfect for large set constructions or multi-set layouts. It also has a certified 20 tonne loading capacity lighting rig.
Studio 02
In addition to a 9.5m wide infinity cove, Studio 02 is accompanied by several ancillary spaces including a hair, make-up, styling room and a separate kitchen, dining area, lounge and bathrooms.
Studio 03
Studio 03 has three large windows (1.2m²) that provide south-facing daylight. The studio also has a 6.9m wide infinity cove and goods lift access (H3m x W1.7m x D2m). The ancillary space offers a styling room, kitchen, dining area and bathrooms.
CAMERAS
Stray Angel Films is a digital motion picture rental, production, and production services company founded in 2003 by Suren M. Seron to serve as a completely integrated facility with the ability to provide professional studio services to a wide range of clients and production needs. We cater to a large client base ranging from independent filmmakers working on their first short to large studios producing multinational television. In May of 2015 Stray Angel Films celebrated its official twelve year anniversary. We are constantly expanding the scope of our operations and welcome new clients and production partners every day. Please feel free to contact any member of our team at any time so we can help you with your specific production needs.
With the 6K RED DRAGON® sensor, you can capture over 9x more pixels than HD. Unrivaled detail and impressive native exposure eclipse 35mm film in both latitude and image density. Industry leading specs distinguish the EPIC DRAGON as a model for image innovation, helming the evolution of digital cinema technology.
Every 6K frame is a 19 megapixel RAW image, which is up to 9x more pixels than 1080p HD. The amount of picture detail found in a 6K image goes beyond that of 35mm, comparing only to 65mm in image density. This means more precise VFX plates, reframing flexibility, and less aliasing artifacts and moiré. Even when outputting 6K footage to 4K or HD, your images will be cleaner and crisper compared to those captured at lower resolutions. When it comes to resolution, bigger is definitely better.
RED DRAGON sensors have a native dynamic range of over 16.5+ stops, giving you a huge advantage in challenging lighting conditions. An improved signal-to-noise ratio gives you confidence that your picture quality will be print and cinema ready from ISO 200 to 2000. Less filters, less IR issues, and less noise gives you more opportunities for perfect exposure.